Holistic Scorecard – Going Beyond Balanced Scorecard
Little did I know, that one day I will be writing this blog. It has been some time since I have been feeling the need to advocate for the rise in 'Business Consciousness' as a way forward for better times in the journey of humankind. While, lot can be said about the advancements in technology and relative comforts it brings. The question is 'are technological advancements making humans, more human' or are they distancing humankind from the core of humanity; while we ponder on this, I intend to take few steps forward.
Today, I have been pondering as how to bring more holistic measures to reinforce increasingly balanced approach in business behaviours with equalized focus on people, planet and profits.
In this context we envisaged five key areas for determining organizational performance. As with any living organism the imbalance within these five elements can make the organization as less than healthy; i.e. the harmony and balance are important factors to fulfil sustainable growth for an organization.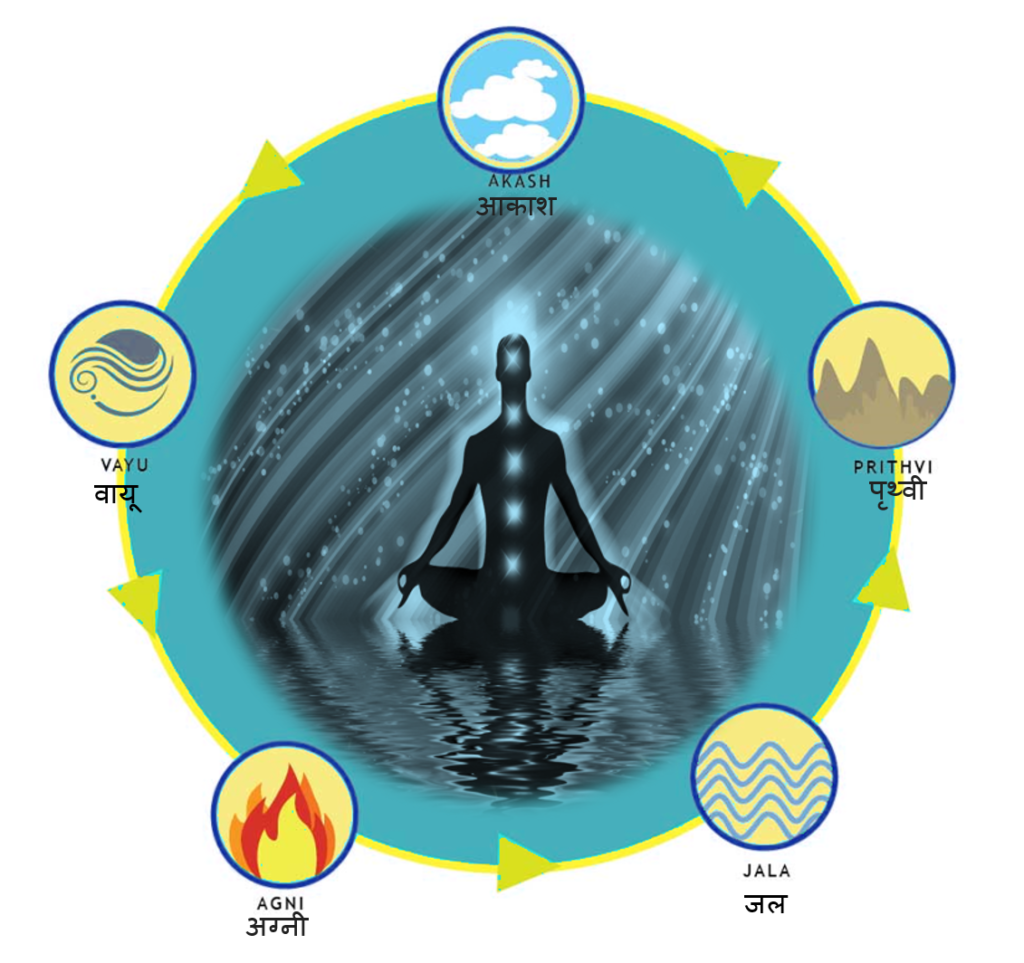 Marketplace orientation
[symbolized by the Space (aka Akash) element]
Market Orientation is about having the foresight and ability to explore the market space by imagining and strategically creating a long-lasting demand for organization's product/services. It is a visionary approach towards long term sustainable growth, by creating products & services that consumers may not even know they want yet or may be a solution to an acute problem that consumers may have considered as beyond resolution.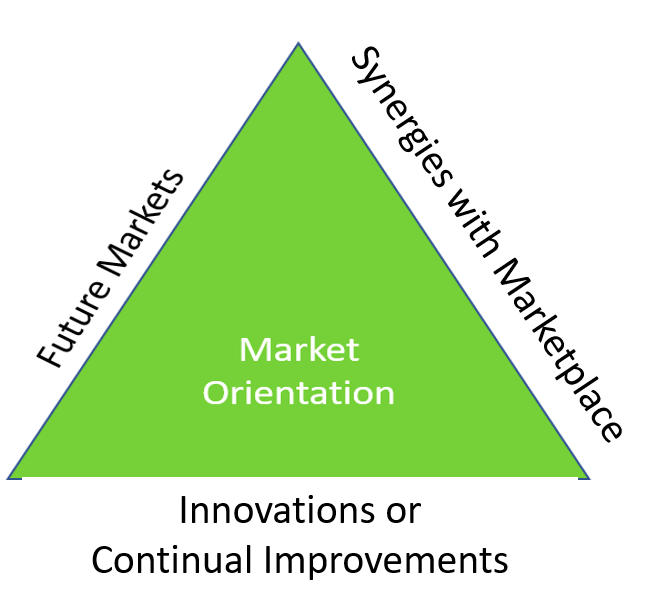 Market orientation is a culture rather than an individual process, where the entire organization is committed to bringing a positively differentiated and continuously increasing value proposition which is always relevant and that the decisions taken are based on information about customers' needs and wants.
Market orientation is about the capacity to look in to the deep space i.e. the open void that surrounds us and the universe, which is like an infinite canvas for people to draw and enact their imaginations upon and even test them. In business terms it is about looking in to distant horizons i.e. space, for visualizing and envisaging newer and potential future wants or needs, for various newer products / service.
Market Orientation, depending on the role/function/level in an organization, may be evaluated in terms of insights on future markets, synergies with marketplace, innovations and/or continual improvements.
Customer Centricity
[symbolized by the Earth (aka Prithvi) element]
Customer centricity is a matter of relative value as its about always keeping the customer happy and providing increasingly better value propositions than any alternatives that may be available to the customer at any given time and from any competing source.
Customer centricity goes beyond just offering great products or services, it implies providing the customer a greater experience from the awareness stage, through the purchasing process and finally through the post-purchase process. It's a strategy that is about keeping the customer at the core of the business.
It is common factor for any highly successful company to maintain and ensure a delightful customer experience all through the flow of interactions i.e. from Pre-sales, to sales, to delivery and post-delivery, follow up.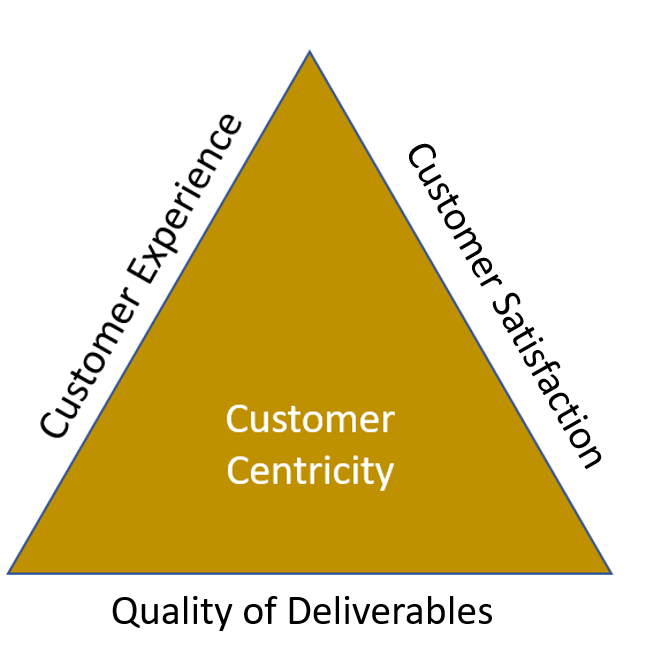 We have often heard the phrase that irrespective how successful we are, i.e. however high we go, we should stay connected to the ground underneath. In other words, "keep your eyes on the stars, and have high dreams and yet keep your feet be on the ground"; as the way for sustained success. It is the gravity that pull us towards the earth (i.e. the ground). Equating an organization to a tree, we should remember that deeper the tree-roots higher the tree-crown.
Similarly, Customer Centricity is to be considered as the ground (i.e. the earth element) on which Business success stand. More rooted the organisation higher it can grow and extend in to the paradise of sustainable growth and success.
Customer Centricity, depending on the role/function/level in an organization, may be evaluated in terms of Customer Experience, Customer Satisfaction and/or Quality of deliverables.
Financial Performance
[symbolized by the Air (aka Vayu) element]
Financial performance refers to the act of performing financial activity. In detail, financial performance refers to the degree to which financial objectives are being or have been accomplished. It is the process of measuring the results of a firm's policies and operations in monetary terms.
It is used to measure firm's overall financial health over a given period of time and can also be used to compare similar firms across the same industry or to compare industries or sectors in aggregation.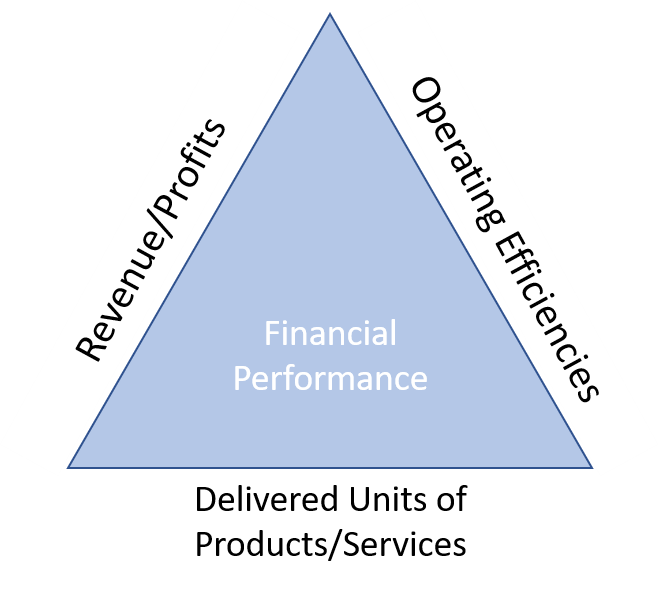 Air is by far the most obvious element we can equate to describe Financial Performance. We breathe Air in and we let it out, and that keeps us alive. It is the most critical element to ensure our survival. Financial performance indicates as how well the organisation will be able to breath.
Financial performance, depending on the role/function/level in an organization, may be evaluated in terms of Revenue, Profits and/or delivered units of products/services (include volumes of transactions).
Business Systems
[symbolized by the Water (aka Jal) element]
A business system is a combination of policies, procedures, processes, methods, and/or course of action designed to achieve a specific result. Business system decides how data must be handled and is methodically processed. It also controls the procedures of the processed data and the results to be displayed. Creating effective business systems is the only way to attain results that are consistent, measurable, and ultimately benefit customers.
Business Systems are like the main bloodstream for any business. It is that critical aspect on which the operational effectiveness and growth of businesses depends. Water constitutes approximately 80% of blood units.
Business Systems when integrated efficiently act as the reliable information pipeline for the organization and its Employees to evidently bring out effective results. The characteristic of business systems can be equated to that of Water and its flow plays a critical role in our everyday existence.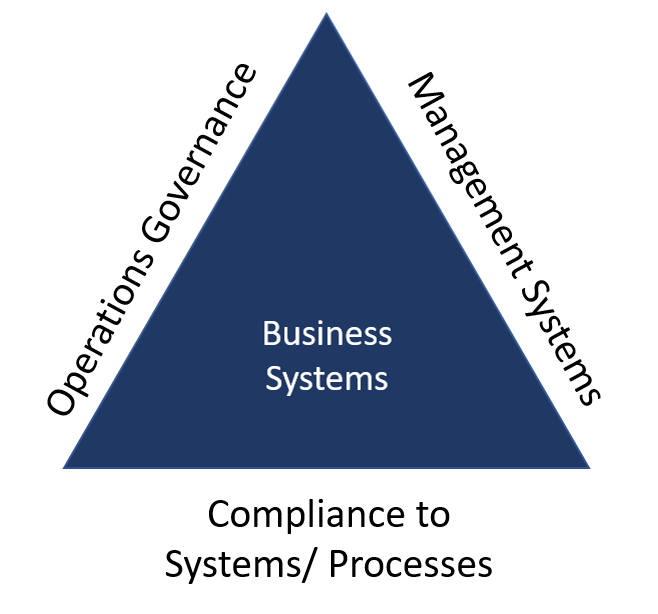 As water adapts to take the shape of the container it's put in, Business Systems, by their very nature are customized to adapt to organizations situational realities to build organizational governance processes and work-flows to overcome the various obstacles that might cross its path. Diligent and persistent business systems, over a period of time will take the form of a powerful river which will slowly gain the momentum
Business Systems, depending on the role/function/level in an organization, may be evaluated in terms of Operations Governance, Customer Relationship Management, Management Systems and/or simply the Adherence to systems/processes.
Organizational Development
[symbolized by the Fire (aka Agni) element]
Organizational Development is a journey of learning and growing; a planned organization wide intervention championed from the top to increase organization health and effectiveness. Organizational Development adds dynamism and energy to whole process of organizational evolution.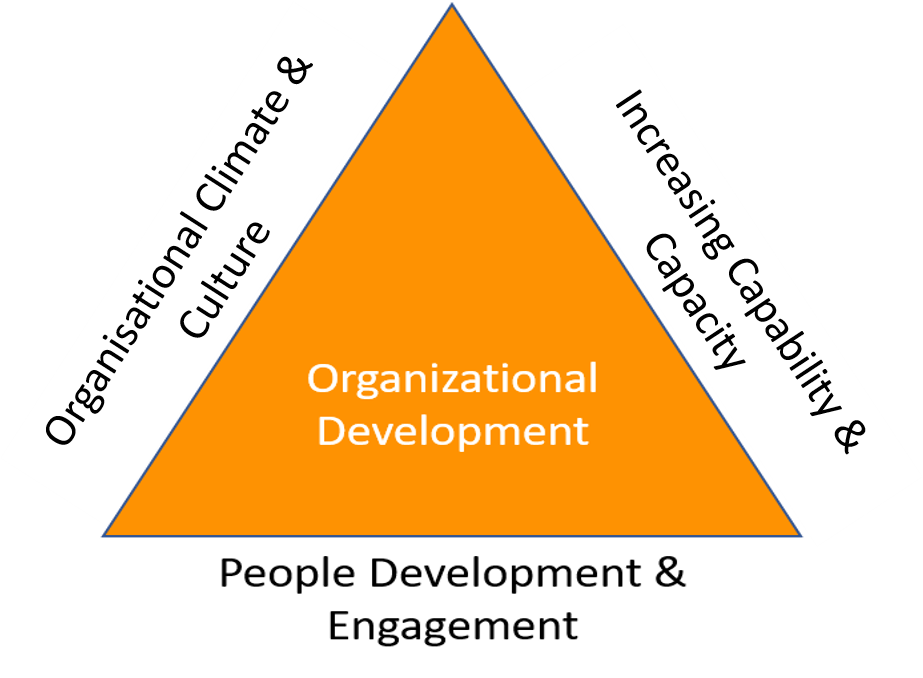 Organizational Development activities, to me, are a form of potent energy (akin to fire) in a living organism impacting the 3 primary constitutes Mind (capabilities – people), Body (organisation – profits), and Spirit (society – planet). It is the balance of these 3 constituents that provides the vigour for a lively organization which is learning, adapting and growing in a sustainable manner.
Organizational Development, depending on the role/function/level in an organization, may be evaluated based on organizational climate, organizational culture, increasing capacity and capability, and/or people development and engagement.
To sum it up
The journey of evolution of an organization is quite akin to evolution of life and humans as a specie.  First everything was 'space', in space came the 'earth' (planet) on which human could exist, and then the right atmosphere i.e. 'air' got created which made the earth inhabitable, then water provided sustainability to the life forms and the civilization prospered with the advent of fire.
Priority of a perspective or a focus area is dependent on the current maturity (or the organisation evolution phase or the marketplace dynamics) status of a given organization.
Solutions for Healthy Organizational Growth & Human Potential Maximization. Fuelling Sustainable Growth
© 2019 – Kapil Chhabra www.kapilchhabra.com